Welcome
Welcome to the Keijo!!!!!!!! Wiki, this wiki is dedicated to everything related to the Keijo!!!!!!!! manga series that anyone can edit. Please help by editing or adding articles and lessening the stubs. We currently have 9,350 edits to 846 articles and 1,385 images since August 20, 2015.
---
Warning:
This wiki is full of spoilers! Read with caution.
Synopsis
Kaminashi Nozomi (17) is an exceptional gymnast. So much so that colleges with some of the best gymnastic programs are trying to recruit her. Unfortunately for them, she has other plans. Due to her family being extremely poor, money is everything to her. That's why she wants to step into the world of "Keijo." "Keijo" is a type of gambling sport where girls stand on a small floating platform and compete against one another. The aim is to push the other contestant off of the platform into the water, but they are only allowed to use their butt or breasts to push the others off. Will Nozomi be able to compete in the intense world of "Keijo" and bring wealth and fortune for her family?
Featured Article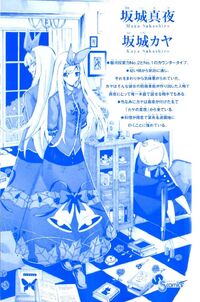 Maya Sakashiro (坂城 真夜, Sakashiro Maya) was a student at Suruga Keijo Training School. She was ranked second in Suruga. She is the adoptive daughter of Ayako Sakashiro, Suruga's coach and headmaster.
Due to her personality disorder, Maya develops an alter ego named Kaya Sakashiro (坂城 カヤ, Sakashiro Kaya), who only emerges in a threatening situation that can't be handled by Maya. Kaya was ranked first in Suruga. Thus, the status as the strongest and the second strongest in Suruga were both occupied by Maya, one person with two different personalities.
Upon graduating from Suruga, Maya officially becomes a Keijo player. Sometime later, she is able to advance to the A-Rank.
Main article: Maya Sakashiro
Discussions
<wikiaforum></wikiaforum>
---
Contribute
To write a new article, just enter the title in the box below.
Not sure where to start?
Check out the WikiActivity to view the most recent activies in the wiki.
Adding content
Featured Media
The second PV of the anime.
Featured Land
The Land is consisted of two air planes which are put side by side on the center of the pool.
Main Poll
Favorite character among the Five Butts?
Spring Season 2019 Anime Wikis

TV Anime

TV (Multiseason)

ONA




OVA

Specials

Film