Keijo!!!!!!!! (競女!!!!!!!!, ケイジョ, けいじょ, subtitled "HiP WHiP GiRL") is a Japanese sports manga series written and drawn by Daichi Sorayomi. The story involves Nozomi Kaminashi, a confident, skilled gymnast but comes from a very poor family, who decides to enter the world of "Keijo." A water sport where girls stand on a small floating platform called "Land," and fight against one another. However, they are forbidden to use their limbs except their chests and butt. Along with her friend, Sayaka Miyata, a former Judo star who switches over Keijo. They are trying to become great Keijo players. Excluding Nozomi and Sayaka, main characters are periodically swapped based on the story arcs.
Synopsis
Kaminashi Nozomi (17) is an exceptional gymnast. So much so that colleges with some of the best gymnastic programs are trying to recruit her. Unfortunately for them, she has other plans. Due to her family being extremely poor, money is everything to her. That's why she wants to step into the world of "Keijo." "Keijo" is a type of gambling sport where girls stand on a small floating platform and compete against one another. The aim is to push the other contestant off of the platform into the water, but they are only allowed to use their butt or breasts to push the others off. Will Nozomi be able to compete in the intense world of "Keijo" and bring wealth and fortune for her family?
Manga
Main article: Manga
The Keijo!!!!!!!! manga series is written and drawn by Daichi Sorayomi. It has been serialized in Weekly Shōnen Sunday. The manga ends in 2017 with 177 chapters, collected in eighteen tankōbon volumes. In addition, there are some extra chapters added at the end of almost every manga volume of Keijo!!!!!!!!.
Anime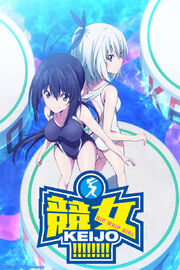 Main article: Anime
Keijo!!!!!!!! anime adaptation is produced by Xebec and directed by Hideya Takahashi. It was set to debut Fall 2016. The first episode of the anime began airing on October 6, 2016. The opening theme, titled "DREAMxSCRAMBLE!", is performed by Airi, while the ending theme, titled "Fantas/HIP Girlfriends!", is performed by Lynn, M.A.O, Kaede Hondo and Saori Ōnishi. The series will be released across six Blu-ray and DVD home video release volumes totalling 12 episodes, and each volume will include an original video animation. Crunchyroll will stream the anime, with Funimation streaming an English dub.

Appearances in Other Media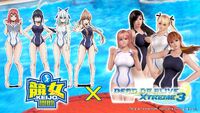 The video game Dead or Alive Xtreme 3 has a crossover promotion with Keijo!!!!!!!!, with in-game swimsuits based on the manga. The dark blue and white version of the school swimsuits are presented as exclusive DLC.

External Links
Community content is available under
CC-BY-SA
unless otherwise noted.