The Elite Class (エリートクラス, Erītokurasu) is a class with special curriculums designed by Setouchi Keijo Training School's teaching staff.
Overview
Among the forty examinees that passed the exams and were accepted into Setouchi Keijo Training School, people with the best grades are gathered in the Elite Class (エリートクラス, Erītokurasu). It is a class with special curriculums, and its members receive an exception which makes half of their fees waived. Initially, it contains ten members. Following the class exchange event, four students have been promoted into this class, thus their members increased to fourteen. The Elite Class is equal to C-Rank in the professional level of Keijo, in other words, when they debuted as Keijo players, they can start straight from B-Rank.
Members
Members' Fates
Upon graduating from Setouchi, they are separated and assigned to different branches, though there are ones capable of getting the same branch.
Reunion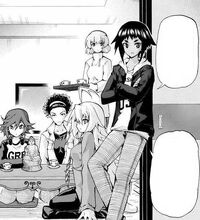 After Nozomi's defeat at the hands of Ikumi Yuzuki, most of them (but not all) visited her since Nozomi lost her consciousness for days. Later, they regrouped. Sayaka then informs them that Ikumi decides to retire, thus a Butt Graduation Festival will be held soon. However, they noticed that only S-Rank players are allowed to participate in such event. Despite this, Sayaka reveals that A-Rank players are also allowed to participate, which means that they can also participate. Thus, they decided to prepare together for the upcoming event. Those participating in Ikumi Yuzuki's Butt Graduation Festival are: Mio Kusakai, Rin Rokudo, Hanabi Kawai, Kotone Fujisaki, Saya Kogatana, Atsuko Yoshida, Usagi Tsukishita, Nozomi Kaminashi, Sayaka Miyata, Kazane Aoba and Non Toyoguchi.

Community content is available under
CC-BY-SA
unless otherwise noted.