The Eleventh East-West War is the eleventh annual competition of the East-West War held in the Shimizu Keijo Stadium.
Overview
Unlike the past ten years, the eleventh East-West War has a different format, which features team matches. Each school has three competing teams of four with one team per race, totaling up to twelve players per side. Matches are played four versus four in a single-elimination best of three races format. Prior to each race, the Land is randomly selected. The team with the last remaining players or with the last player to fall off the Land is declared the winner of the race.

Race
First Race
Setouchi Team
Suruga Team
Land Used
Result
Jungle Gym

Akari and Kaho defeating Mari
Mio, Kotone and Sayaka defeating Saki
Sayaka needs to recover after using her "K-acceleration"
Kotone fights Nami to protect Sayaka
Nami defeating Kotone
Sayaka defeating Nami
Mio defeating Akari and Kaho
Setouchi winning the first race
Second Race
Setouchi Team
Suruga Team
Land Used
Result
Flight

Setouchi defeating Mai and Kei
Sanae and Ayase surviving
Sanae defeating Atsuko
Kazane begins to fight Sanae, while Non and Usagi fight Ayase
Non comes to help Kazane after manages to cause Ayase exhausted
Sanae defeating Usagi
Kazane and Non defeating Ayase
Sanae defeating Non
Sanae and Kazane are seen to be sunk at the same time
When viewing replay it shows that Kazane sinks first, since Sanae is saved by a whirlpool caused by her "Pie Pile Piper"
Suruga winning the second race, the outcome depends on the final race
Final Race
Setouchi Team
Suruga Team
Land Used
Result
Castle

Nozomi begins to fight Maya
Rin and Hanabi fight Hikari and Midori
Tae interrupts the fight but is blown away by Maya
Hikari and Midori manage to corner Rin and Hanabi
Saya comes to help after manages to counter Tae
Saya defeating Hikari
Rin and Hanabi defeating Midori
Nozomi corners Maya, as a result Kaya takes over Maya's consciousness
Kaya defeating Tae for speaking too much
Kaya defeating Saya and Rin
Hanabi empowers Nozomi
Maya regains her consciousness after Nozomi motivates her
Nozomi defeating Maya
Setouchi winning the competition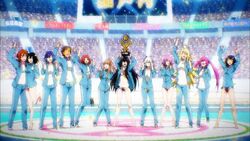 The 11th East-West War had started out with high levels of attention, with Setouchi unexpectedly taking the first race, finishing strong and displaying an unprecedented level of Keijo from the West. The second race was more even, with Suruga winning through the narrowest of margins. The third race ended with a climatic one on one duel between Nozomi Kaminashi of the west and Maya Sakashiro for the east. Nozomi came out on top, granting Setouchi its first ever victory of the East-West War since its inception. This massive upset then subsequently led to a higher public and organizational interest in western players once the Setouchi students graduated and moved into the professional scene.
Community content is available under
CC-BY-SA
unless otherwise noted.